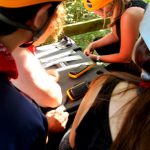 Pushing the envelope can be exhilerating, bonding and totally inclusive – it's all about mental preperation.
One of our clients wanted a team challenge that would push the boundaries of individuals, creating a truly memorable bonding experience that built on trust and understanding across the team; Ultimate Campout created the challenge in the right environment, testing the team both mentally and physically. The team set off on a journey not knowing the final destination, the tough choices they needed to make along the way, or the depth of understanding they would need about the strengths within the team.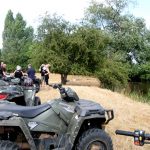 Their journey starts gently, providing some skills in communication with blindfold driving, practical and coaching skills with axe throwing, before the bar is raised. The teams were given route maps to follow on a quad trek, providing clues along the way to find and crack the code for a locked box. Once opened, this gave them the final team challenge – an overnight campout under the stars!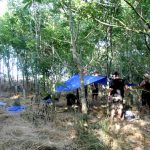 By this stage, the teams had all the equipment needed, opportunities for further bushcraft and campcraft training, together with food to cook on their open fires. It became an overnight success and one that any team will remember for a very long time…for all the right reasons.
Andie was great in developing an event programme which specifically met my needs and requirements plus added a few twists which made the whole event both special and memorable. On the day Andie and his team were both informative and helpful. The location is fantastic, food wonderful and I hope to be back soon.