Our client from Opera Group wanted to do something they had never done before; organise a team activity day and overnight stay to celebrate their success in the past year.
We helped them design a day that would be fun, engaging and entertaining with an overnight stay at a local hotel that included a banquet dinner and live band.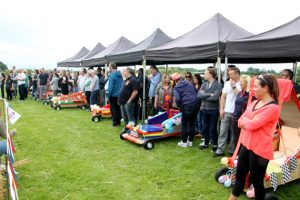 Guests arrived to a BBQ lunch, before being introduced to the Garlands Corporate staff and the rest of their team. Eight teams rotated around the activities that included quad racing, archery, off road karting, air pistol and rifle shooting with a Soap Box Cart Race as the grand finale.
"Thank you for making the afternoon such a success. All our staff enjoyed the variety of activities which were well supervised and supported. Explanations and demonstrations were effective and carried out by friendly Garlands team members who were quick to assist and easy to understand!
The trip advisor ratings are well deserved. Everything ran according to plan"  SA, Opera Group
If you are interested in what Garlands Corporate can offer your team for an activity day anywhere in the UK, why not give us a call or drop us an email to discuss your requirements. Call 01827 722201 for further info.