Client Brief
Having already delivered a successful development programme for the Senior Management Team, Gefco asked Garlands Corporate to help develop a programme for the next level of managers from across the country. It needed to focus on them as leaders of teams, with an element of project management, and provide the opportunity for them to really get to know each other well outside of work and a CSR real project provided the match.
After an initial introduction on the day by the Gefco UK Managing Director, Andie Brazewell from Garlands Corporate delivered an input on the theory of cohesive team behaviours before four students from Exhall Grange School took over the meeting to introduce their challenge to the team; to rebuild their playground!
The Project
The 23-strong team from GEFCO not only built a pirate ship for the Specialist School in Exhall, but also landscaped and tidied the school's grounds; clearing the sports pitch and surrounding wooded area, building a path for wheelchair users and planting over 1000 spring bulbs.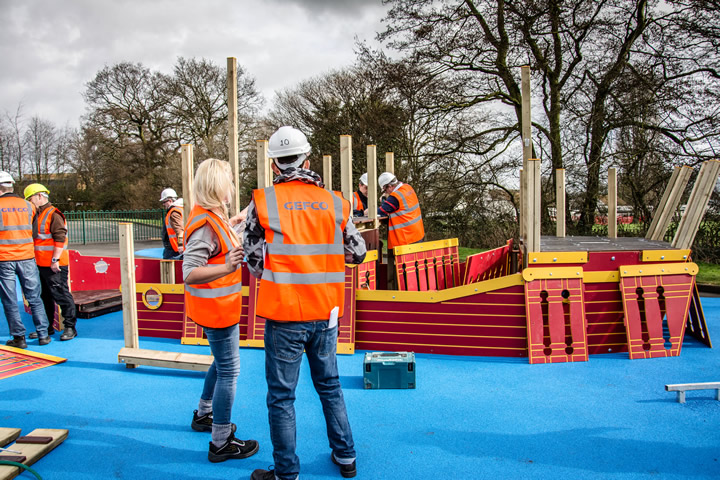 The team needed to understand the skills and abilities of everyone to make this project a great success; project managing to media and communications, gardening and DIY skills were all needed. Reviews were carried out throughout the project to understand the key learning that can be taken back into the workplace, as well as celebrating milestone achievements and the overall success of the team in delivering a fantastic new playground area for over 200 children at the school. A real project with real results on team performance.
[fusionslider id="" class="" name="gefco"][/fusionslider]
Client Feedback
"A really massive thank you Andie for helping pull this project together including the team building and leadership element, which made it such a success. I cannot tell you how much of a positive experience this has been for the team (and the children), and I know this will be a lasting memory for everybody involved. Thank you so much!" HG, Gefco