I am writing as a lifelong Leicester City Football Club fan following the greatest achievement in its 132 year history. In fact, many people are calling it the biggest achievement in the history of global sport – quite a statement!
Yes, we are talking about the club's road to winning the 2015-16 Premier League title as 5,000/1 outsiders. Luckily for me, this huge team success has many business related examples of how anyone can achieve remarkable things despite fewer resources than your rivals, which gives me a valid blog idea!
Leicester's regular starting 11 cost around a 9th of last year's winners Chelsea, so they didn't buy their way to glory. So what was it? How did they manage to defy the odds and buck the trend of 'money wins trophies'?
Lady Luck?
Many people have branded Leicester as lucky because of the lack of consistency from the top clubs. But can you really win the title by 10 clear points just through luck? I am happy to dismiss this theory.
Management Style?
Manager Claudio Ranieri said: "I always thought the most important thing a good coach must do is to build the team around the characteristics of his players. So I told the players that I trusted them and would speak very little of tactics." This is a rarely used style of management through great leadership and motivation – empowering the individuals to work as a collective spirit whilst using their personal attributes as a driver.
Ranieri has continuously quoted throughout the season about motivating his team in different ways in order to get the best out of them – not with lucrative bonuses, just pizza sometimes!
Head of Fitness and Conditioning at Leicester City Matt Reeves states "It's about empowering the players to make decisions for themselves rather than ruling over them. It helps with the group culture and the fighting spirit."
Many companies can learn from this management style to ensure their employees are valued and utilise their strengths as an individual within the team – resulting in increased productivity and chances of progression. So, is the manager the key?
Teamwork?
It's no secret that at the start of the season there were no real household names in the Leicester City squad. It would certainly be unjust to suggest there was a lack of individual talent, but they didn't have the stand out performers that the top teams have every year.
Leicester City haven't had the possession or the pass completion percentages, but they were very structured as a unit, closed down teams and played with more energy than anyone else. Many players have spoken of their willingness to work tirelessly for the team because of their close bond.
Despite winning the PFA Players' Player of the Year award for his individual performance, midfielder Riyad Mahrez puts his success down to his team – "It's the team spirit, and I want to dedicate it to them."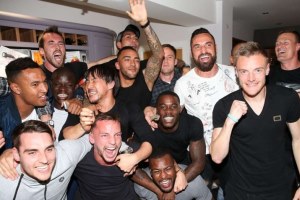 The Leicester players worked for each other and showed a huge amount of team spirit in games and socially. The celebrations at Vardy's house once the title was won gave an insight into the bond that exists in the team.
Without teamwork and a strong bond in organisations, large gaps in productivity can form due to a lack of communication, increased conflicts and individuals seeking different end goals.
The key elements:
Along with the endless, passionate support of the Leicester City fans and some of the best fitness and conditioning coaches available, these two factors – management style and teamwork – must be seen as the driving forces behind their unprecedented success.
"The team with the best team spirit, the team that works hard enough for each other, coupled with the talent dotted within, they're the ones that come away with trophies at the end of it, not the ones that have got financial clout with expectation." – Stuart Pearce
And, even if you don't like football much – at least you'll get to see Gary Lineker in his pants on TV next season.
What does this have to do with Garlands Corporate?
At Garlands Corporate we pride ourselves on developing teams through both working with individuals to discover their talents within groups, and working with teams as a whole to improve and progress as a collective. Leicester City will be an inspiration for what team work and team spirit can accomplish for years to come in sport and the business world – something that we cannot ignore.
See how we can help build your team by speaking with our highly experienced events team on 01827722201, or head to one the pages below that may suit your requirements:
Phil Underwood – Sales and Marketing Manager