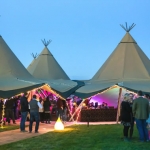 When it comes to celebration & reward (plus a serious look at what's new for the coming year), Zizzi spent two days at Mythe Farm doing it in style…and then some!
Taking over all of Mythe Farm, including Mythe Barns, the Warehouse, Pavilion Marquee, Event Field #2 & Event Field #3, Garlands Corporate collaborated with the Zizzi Event Team to create a special 'festival' style event that combined business with some serious fun.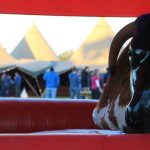 Following the flag lined driveway to a welcome reception, the 220 key staff and restaurant managers' bags and belongings were collected and taken to their respective 'glamping tent'. This gave everyone the chance to catch up and share stories with colleagues in the courtyard over coffee and cookies. After an initial conference address and workshop in the Grain Store, delegates rotated around rooms designed to encapsulate and focus on Zizziness, including the 'Food Room', 'Service Room', and 'People Room' to get a flavour of Zizzi had to offer in the coming year.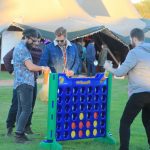 Evening entertainment was equally taken seriously, with many 'guest' appearances including the Spice Girls, as they paraded down the carpet to join in the fun. Whether having a go on the rodeo, playing our giant games, trying the sumptuous street food on offer such as the delicious hog roast and barbecue, or partake from the variety of wine, beer and cocktail bars, the scene was set for a night of fun and celebration.
A live band took the evening to a crescendo, before ZizziFest revellers slept under the stars in their 'glamping tent' for a good nights sleep.
The event was a resounding success and portrays the incredible flexibility that Mythe Farm has to offer our clients for such large scale events.
If you are looking to book an annual conference, celebratory or reward event in 2016, call the Garlands Corporate Event Team on 01827 722201 and see what we can do for you.