On the 19th and 20th October Garlands Corporate hosted the Team Building Zone at the World of Learning Conference & Exhibition for the 3rd year in succession. But, did it live up to expectations? Who did we meet? And, what did we learn?
Garlands Corporate is experiencing year on year increases in the number of team building and business development events taking place. Compared to the same period last year (January – October), this year we have seen an increase of over 41% in the frequency of such events. We believe that meeting potential clients face to face at events like World of Learning has certainly contributed to this rise in team development events.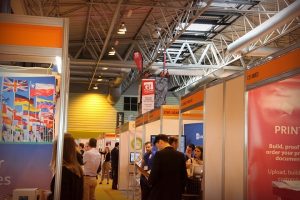 This year we met an array of people from across the spectrum of the business world. It really was a mix from start-up businesses with a couple of employees, all the way up to multinational breweries and banks, which resulted in great diversity of conversation due to their differing learning and development requirements. This was ideal for Garlands Corporate, as it not only kept the event interesting for our team building experts, but also because we have the ability to provide bespoke development programmes and events for all business sizes.
The variety didn't stop at the business sizes though. One minute we had enquiries for fun activity days to entertain/reward key clients and the next we were discussing change management programmes for a merging team – and everything in-between. We weren't necessarily expecting such a range of enquiries, but we were more than happy to receive them and learn more about each business.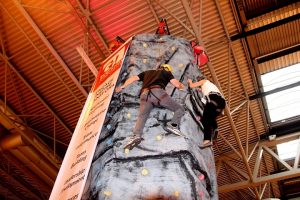 It is fair to say that the 7m rock climbing wall on our stand attracted a few adventurous visitors, as well as those who were just intrigued – you could see us from the other side of the NEC! The wall did prove to any doubters that it did fit nicely into a learning and development event (read our climbing blog). We witnessed encouragement, leadership, communication, coaching, facing fears, tackling new challenges, trust and camaraderie – all things that can be aligned with the workplace and development. Well done to everyone who had a go – to those who reached the top and to those who met their own goals by simply getting off the ground.
Overall, we met some lovely people who are looking to develop their teams to further their businesses. Our team building experts were able to draw on the business requirements outlined and suggest ways in which we can assist in their goals. This has allowed us to develop positive relationships with a market who didn't know of Garlands Corporate before the event – how could we ask for more?